Hotel reservation
The Workshops Service Agency Monomax offers the following hotels for the participants' accommodation during the Workshops dates: August 26 — September 1, 2007:
Oktiabrskaya Hotel (***)
Russ (***)
Novotel (****)
The hotel accommodation should be booked from the participant's personal on-line registration page. Use your personal login and password you received while registering to enter your registration page and the "Accommodation" section. Monomax Meetings&Incentives offers special rates for the participants of the Workshops: prices for accommodation are less then the official hotel rates.
Hotel
Room category
Price, EUR
Oktiabrskaya Hotel Main Building (***)
SGL
110
DBL
140
Oktiabrskaya Hotel Ligovsky block (***)
TRPL
140
Russ (***)
SGL Standard
50
SGL Renovated
60
DBL
100
Novotel (****)
SGL
220
DBL
250
The prices are indicated per room per night including breakfast and tax.
Prices are given in accordance with the hotel's rack rates and can be changed in connection with hotel rates growth.
Check in/check out time in hotels - 14:00/12:00.
If you intend to stay in the hotel during some hours after check out time the half price of one night stay in the hotel should be extra paid. (in "Oktiabrskaya" and "Novotel" hotels — full price of one night stay should be extra paid)
The Workshops Service Agent ensures the preferable hotel accommodation in case you make Hotel Reservation by July 15, 2007.
After this date the requests for accommodation are accepted but without guarantees for available places. Please, ask for availability by the e-mail: Natalia.Zakharova@monomax.org
To find more information about the payment procedure see "Payments section" at the Registration page.
Please note:
To make your hotel reservation and prepayment you should be registered for the Workshop using on-line registration.
One night prepayment for the hotel accommodation should be done before July 15, 2007 in order to guarantee accommodation.
The hotel reservation will be confirmed after receiving one night prepayment.
CANCELLATION
Information about the hotel accommodation cancellation should be made in written form only and forwarded to the Monomax Agency by e-mail: Natalia.Zakharova@monomax.org or by fax +7 (812) 335-2039.
For cancellations received before July 20, 2007 the sum of payment will be refunded completely (less bank fees).
In case of cancellation received on or after July 20, 2007, the cost of one night stay and the amount of banking costs will be charged out of the amount of your payment. The rest amount of payment will be reimbursed.
INFORMATION ABOUT HOTELS
Oktiabrskaya Hotel***
10, Ligovsky pr. (10 min walk from Workshops' venue)
The Oktiabrskaya Hotel is good for business traveller because it is conveniently located near Metro station, close to the Moskovsky railway terminal, 1 hour drive from Pulkovo International Airport and just few minutes walk from Nevsky prospect.
Each room (room area - 18 m2) has a completely renovated bathroom (with bathtub and shower), direct-dial telephone, TV (international and Russian satellite channels), fridge or mini-bar. Some of the hotel rooms give truly magnificent city views.
Ligovsky block - affiliated branch located on Ligovsky prospect opposite Moskovsky railway terminal. The rooms are the same as in the main building but with smaller area. Triple room is about 12 m2.
Each room has a bathroom with bathtub & shower, direct-dial telephone, TV (international and Russian satellite channels), fridge.
Single rooms. Room area - 18 m2. Rooms are equipped with one single bed.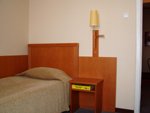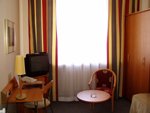 Twin/double rooms. Room area - 28 m2. Rooms are equipped with two single beds or one king-size bed.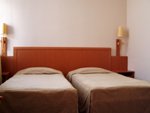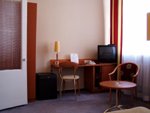 Hotel "Russ"***
1, Artilleriyskaya str. . (30 min walk from Workshops' venue)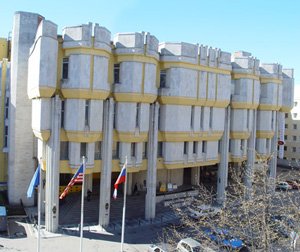 The Hotel Russ is conveniently located in the heart of the city, in historical, cultural and business center of St Petersburg. 10-15 minutes walk will bring you to the main street — Nevsky Prospect. The building was constructed in 1932-33, renovated and entered into operating as a hotel in 1980. In 2002-2003 78 rooms were redecorated. There is modern furniture, direct phone, TV-set, private bathroom and fridge in each of these rooms.
The renovated rooms have modern furniture, modern decoration and all possible amenities available — for those who care about home atmosphere. In all rooms at visitors' service there is an instant telephone connection with St Petersburg and all cities of the world.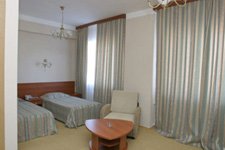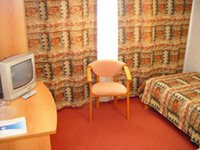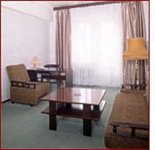 Novotel****
Mayakovskogo str.3A . (5 min walk from Workshops' venue)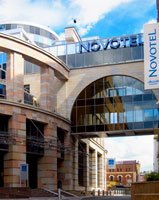 Novotel hotel is a modern project created by Mamoshin's architect's studio. It represents modern architectural concept that focuses on bringing back the original spirit of Italian gardens that were the part of the city area paying homage to the decorative style of Italy while meeting the latest customers' requirements: comfort, space, volume, innovation, modernity and contemporary design.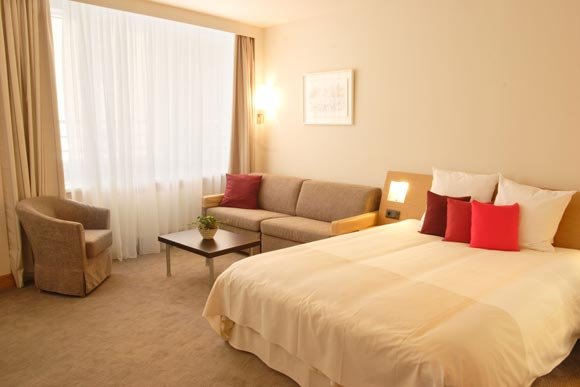 Novotel hotel sits in the heart of the historic centre surrounded by masterpieces of famous Russian and Italian architects. Located close to the main street of the city — Nevsky prospect, the hotel is just a short walk away from the Hermitage, Russian Museum, Mariinsky Theatre, Cathedral of Lady of Kazan. Novotel St. Petersburg Centre brings new feelings to this exceptional historic city.
The hotel is 500m from the Moscow railway station and 17 kilometres from Pulkovo airport.
If for any reason you can not make your hotel reservation on-line or have any questions concerning the hotel accommodation please contact the Monomax Representative Natalia Zakharova: tel.: +7 (812) 335-2055, tel/fax: +7 (812) 335-9959, e-mail: Natalia.Zakharova@monomax.org